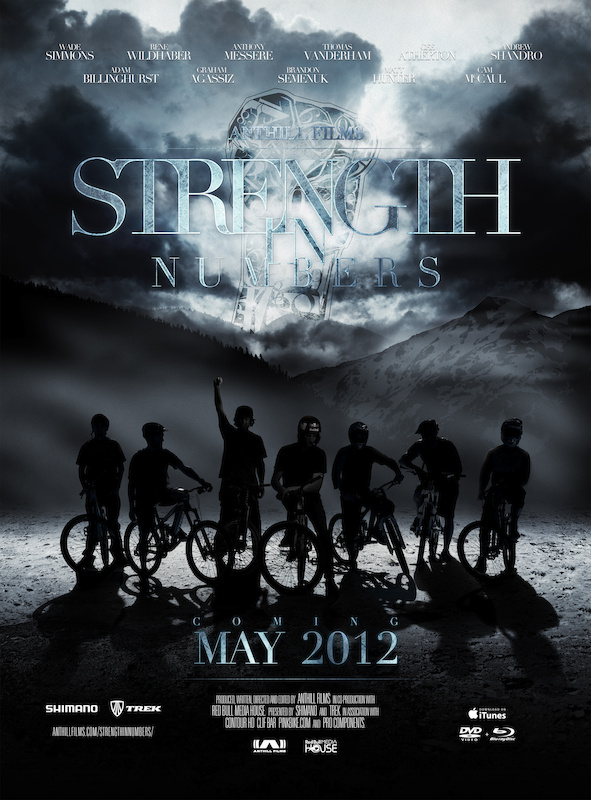 In Short:
good but didn't give me the chills.
* * * * *
Like probably every other self-respecting mountain biker on earth, I watched Strength in Numbers yesterday. I plugged the old lappie into the flat screen at sat back with some popcorn to watch it in all its sometimes-pixelated glory. But who can complain? I was stoked Anthill was letting the world check it out for free. And why not? If you're proud of your creation and you know it's top notch, why not let people check it out and trust that they'll buy it? So for any of you who were living under a rock or recovering from a coma in a hospital or whatever, here's a little review.

I have to say up front that Strength in Numbers is a good movie and probably deserves a place in anyone's collection. But since the Collective/Anthill guys are pretty much the standard by which all MTB movies are judged, I'm taking a pretty critical approach. I only got to watch it once, and maybe after a second viewing I'll come back and change all my failed opinions. But these are my initial impressions.
I was hoping for a little more. For me, it was just good. It lacked the soul of Roam and the stoke factor of Follow Me, and sits somewhere in the neighborhood of Seasons. Follow Me, while pretty straightforward, had some pretty mind blowing moves on some really crazy features, and maintained a really high energy level that still gets me really stoked to ride.

Maybe it's not fair for me to compare it to Roam, since Roam was the first freeride movie I ever saw and none of their movies have moved me like Roam did. But even though riding and filming have gone up a few notches since then, Roam still moves me. Strength in Numbers reminds me of seasons for a couple of reasons. First, it's another failed attempt at some sort of concept beyond "Hey, watch rad bikers ride rad bikes in rad ways." The "seasons" concept didn't really pan out, and in Strength in Numbers, the whole "community concept" didn't really pan out either. Yes, you have segments with a really strong sense of community, like Whistler and the Post Office Jumps, but everywhere else, there were these little blips of non-pros talking about their scene for a brief moment. Most of the time these ended up being just sort of awkward moments (Like the Random Nepal guy: "for a long time mountain biking was here...and then suddenly, it was here..." Who was that guy? What was his story?)
Like Seasons, it wasn't enough of a documentary to be really interesting, but it was enough of a documentary to slow things down and be uninteresting. I'd love it if they did a full on documentary of some of these guys and their lives. But this halfway stuff just doesn't do it for me. Either dig deep and really show us what it's like behind the scenes, or just give us the eye candy. Anthill always seems to mean well conceptually, but it ends up being like the little brother in the back seat while you're with your friends, popping up here and there and bugging everyone.
On to some specifics:
Riding
Other than the Kamloops section where Aggy rides that huge jump trail through the woods, I wasn't blown away by the amplitude of anything. Don't get me wrong, there were awesome moves and awesome trails, but I don't remember seeing really ground breaking. I was impressed multiple times by the speed and control exhibited by downhill and trail riders throughout the movie. Brandon Semenuk rallying Gnarcroft (I think?) is something to behold. Strength in Numbers seemed to be less hucks and tricks and more high speed, gnarly line choice. It definitely made me feel like a hack of a trial rider. Those moments are scattered throughout and they're probably my favorite thing about the movie.
Videography
As I said earlier, it was good. They had some pretty awesome ultra-slowmo stuff going on, and they used it really well. It appeared consistently but not to the point of being annoying. I also noticed some impressive long shots of DH racers. It's seems like those are rare and Anthill managed to get some extended lines that really showcased what some of these World Cup blokes can do. On the other hand, with Redbull on board, I had secret hopes that we would see something on the caliber of Travis Rice's snowboard movies like That's it That's All or The Art of Flight. I guess Redbull wasn't the only source of money for Travis. We'll have to wait for Quicksilver to get in on MTB. But after Lifecycles, which although it wasn't perfect and was maybe a little too ambitious, I think Anthill needs to further step up their game visually. I know a lot of people didn't like Lifecycles for a number of reasons, but I LOVE watching it. It's amazing to watch. Strength in Numbers was good to watch, but not amazing.
Music
I thought the music was just okay. Seemed like one of those movies where they're struggling to pay for royalties and they end up with some dodgy tunes.
Of course, you can be the judge. Here are the tracks:
Send Me a postcard - Shocking blue

Random Hearts - Tom Gabel

Soul of a man - Ramblin' Jack Elliot

Cantara - Dead Can Dance

Write It all down for you - Elliot Brood

Guerilla Radio - Rage Against the Machine

True Believer - The Bouncing Souls

Broken Side of Time - Alberta Cross

Radioactive - Imagine Dragons

Wonderful World - Jimmy Cliff

Failures - Larry Gus

The Ghost of You (Instrumental) - Concordia

Prisoner (Instrumental) - The Jezabels

Let Spirits Ride - Black Mountain

Shave It - Zedd
Without going back and checking out all the songs again, some highlights for me included Rage Against the Machine (gotta give credit for the stoke factor during the Utah segment), the Bouncing Souls (nothing like some classic punk), Imagine Dragons, and the Jezabels. Lowlights included Shocking Blue's Send me a Postcard during the Aptos portion. I get it, they're the Post Office Jumps, and the song is about sending a postcard. Nice idea, horrible song. Cantara, by Dead Can Dance, was a tune clearly picked to match up culturally with the Nepal segment (although the song has more middle eastern flavor than Asian). I'm all for a little culture, but it went on forever and actually started to bother me before it was over. I guess everything else was pretty forgettable. I'll have to go back and check out the tracks to see if there's anything else I liked. Lots of gritty, mid-tempo rock if you're into that stuff. I happen to like electronic music, although I don't think the whole movie should be drenched in it, but Shave It by Zedd didn't get me going.
Random Yea's
I liked the integration of the random locals during the Whistler segment. Super cool for them and nice to see good riders who don't do it for a living.

I liked the bike related quotes between segments.

I liked the old footage from early days at the Post Office Jumps. When I mentioned a full blown documentary, that's the kind of interesting stuff I'm talking about.

I liked the section where they showed the trail-builders by their trails and with the trail names.
A Danny Macaskill segment would've really added some umph to this thing!

I don't recall Matt Hunter out-doing any of his past hucks, and that hurt a little.

In all seriousness, I have a crush on BC as much as the next U.S. freerider. But I wish they'd branch out and be less BC-centric. Even beyond BC it's always the same places: North Shore, Whistler, Kamloops, southern Utah, high alpine singletrack in Europe, somebody's dirtjumps, and some random place on the other side of the earth that isn't really that rad but is somewhat interesting. I don't know how to tell them to strike a better balance between the meccas and the new spots. Maybe they can't. I just can't help but think there's more out there...
Bottom line?